ԳԻՇԵՐ / Gisher (2020)



About: An illustrated online and printed zine of the text of a performance, to accompany Giorgia Ohanesian Nardin's performance Gisher.

Skills: zine-making; InDesign; illustration; photoshop.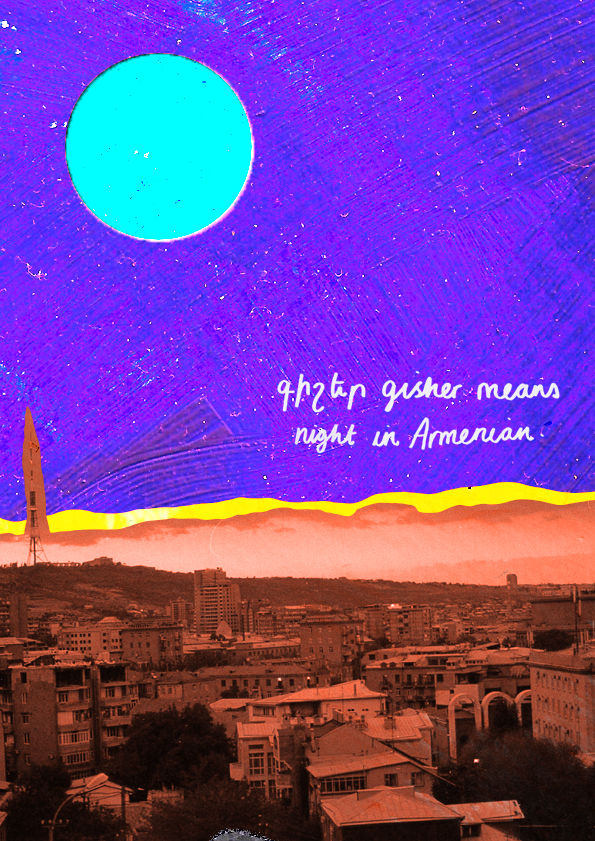 A performance negotiating themes of about diaspora and memory, the way that memory lives in the body, intergenerational trauma, the struggle to feel present and safe, hypervigilence, the commodification of our stories to ensure our safety and our income, and Armenian ritual, by Giorgia Ohanesian Nardin.

I was inspired in lay-out by Armenian illuminated manuscripts and the epic David of Sassoun, I imagined the text as a queered Armenian epic quest. I laid out English and Armenian text with my own illustration, themed around liminal spaces and night-time (a pathway into a forest, a train at night, a door opened slightly, a waning moon, curtains), I designed and laid out a zine of their text. Initially digital only (to ensure safety during COVID), it will be printed in physical format in September 2020.

In September 2020, Azerbaijan launched a planned attack on Artsakh and Armenia, killing and displacing thousands of Armenians from their homes and ancestral lands. I decided to print 50 copies of an adapted version of the cover of "Gisher" to sell as prints, and I expect to donate £300 to fundraising efforts to provide shelter, food and medicine for affected families.